BUSINESS EXPANSION & FUNDING
Create opportunities for startups by accessing markets and investors
As an independent broker with presence and connections around in Europe, JOHOC will guide, identify, inspire, introduce and challenge the market with exiting and interesting solutions.
Apply to JOHOC Accelerator Program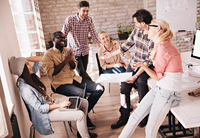 JOHOC Accelerator Program will are open to startup / scaleup companies that are in need of funding, customers and advisory to expand their business.
JOHOC will invest both money and time and give access to our network in order to make your company a success.
So if you run a startup with great potential and are in need of funding, apply to JOHOC Accelerator Program and JOHOC.
We help you find your next business opportunity that match your strategy and goals. Through our offices and network in Europe, we will give you the right insights, connections and business opportunities, in order for you to grow in the Europe. We are present in most of the larger cities and markets. Where our team support you in anything from providing the right connections, open up doors, to negotiation and closing deals. Since business is local and based on relationships, we have created this network in order to deliver an expansion service, which is stronger and more cost effective than hiring your own staff.
Working with both startups and investors, we will connect and introduce the right company as well as investor, based on your requirements and needs. The good relationship between an investor and company are crucial and necessary in order to be successful. We constantly have a number of tech/startups that we are working with. They are searching for the right investor, as well as the other way around, where we support a constantly growing group of investors to their next investment. So if you are a tech/startup and need help, lets us know, as well if you are an investor, contact us and we will consult you and guide you to your next unicorn investment.