We are constantly on the lookout for promising startups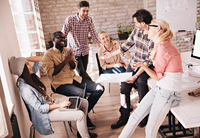 JOHOC Accelerator Program
JOHOC Startup Accelerator Program is open for all European startups. Your company only need to be registered within EU or EES region.
Funding, Sales, Marketing, Networking and advisory in one Program
JOHOC Accelerator Program for Startups and scaleups
JOHOC Accelerator Program is turning to European startups and Scaleups with global potential. Where JOHOC will support the companies not only with funding but also by connecting you to our sales and partner network where we will be able to support you expansion and maximax your full market potential.
The Program is selecting between 5-10 companies with the best potential that will get funding and expansion support from JOHOC and its partners.

You will be part of an inspiring group of companies with the same goal of internationalization. Where you will benefit from working together and the use of JOHOC:s network of expertise and competence from scaling up, sales, investments, IPO:s etc
Funding, Sales, Marketing, Networking and Competence in one Accelerator Program
Apply now
JOHOC will accept applications until 31 March 2021 and will then evaluate the applications with the goal to start the program in August 2021.
So send us your application now and be part of JOHOC Accelerator Program